An original and challenging survival arcade game about colors!
Your Chromacore is stranded in the depths of space and the only way to survive is to show to the universe the True Rainbow Power!
Combining speed, action, and emotion (and some rage), Chromatic will let you unleash your awesome gaming skills through a fantastic, but dangerous adventure in space-time.
To survive, your goal is to disintegrate the vicious hazards by selecting the opposite color of your enemies.
Use your Chromabeam to quickly wipe out all the dangers and be rewarded with huge combos!
Reach your eye tolerance limit and be proud (or not) of your score!
Fight against badass bosses that will push you to use your best strategies to win.
Will you have the courage to deal with that challenge where your unique allies are colors ?
Or double the fun and call a friend to help you with the badass Chroma-Missile Launcher !
Have fun with this colorful Indie game. It's made with nothing but love! <3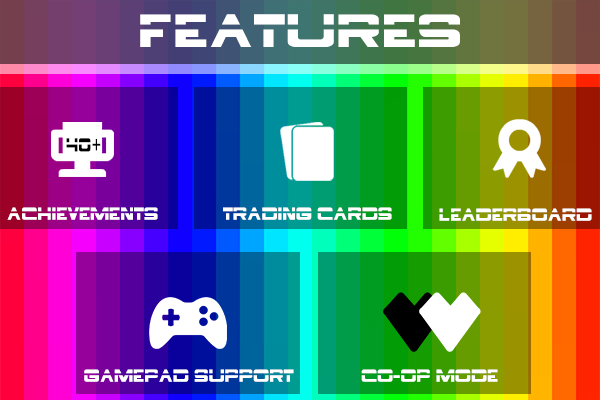 Features
Over 40 thrilling Achievements to unlock
Incoming trading cards support
Double the fun and play with a friend in Coop mode
Mouse and Gamepad support (XBOX controller, Sony DualShock, Steam Controller …)
Features 50+ different hazards randomly generated but organized in difficulties over time
Includes epic boss fights to challenge your skills
Action, emotions and high level of intense progressive gameplay
A nostalgy game to play again and again to improve your World Rank in the Leaderboards
Latest News
No items found.