Fumiko! is a story-driven, artistic platformer that is not ashamed of being weird and unique.
You are an artificial intelligence named Fumiko. You managed to escape the testing grounds and voices are telling you where to go. A surreal world is unfolding. Everything is unknown to you in a dystopian network of 2080.
In this single-player, story-driven game you'll enter a rabbit hole. The network is preparing to stop you from becoming too powerful. Visit social hubs and protect the people from a threat yet unknown.
Your abilities are taking surreal forms over the course of the game as Fumiko is evolving
The longest dashs and highest jumps you have ever seen
Learn more about this virtual network of the 2080s and explore the lives of its inhabitants
Break into threatful security systems in your search for answers
Admire the beauty of a hand-crafted low-poly world
Day-1 Linux and Windows support
Supports the Xbox, Xbox360 and Steam Controller. Other gamepads are detected but might have wrong button & axis mapping. Using software to simulate an xbox controller should work.

If you bought the game or played one of the demos. If you have any feedback to provide I'll be open to suggestions on how to make this game a game you would love.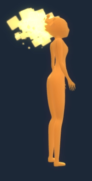 Cheerful regards, Odrez
Latest News
No items found.