You are sent in on top secret missions across the world to erase any existence of the governments tests.
BUT things don't seem to go to plan as you are forced to fight for your life in a hope you will make it out alive!
Use weapons, traps and throwable's to defeat the infected or use the skills menu to make the ultimate solider.
Enemies range from walking/running to explosive, ranged and even invisible.
Travel Around the World to Fight the Infection
Fight the infected on bridges, in compounds and even in a disco!
There are many places you can go to fight, but beware as there might not be just infected there…
Map sizes can vary from tiny little 1-2 rooms or can be a massive open terrain with harder enemies.
*There is currently one map and it is there to test skill.
Plan Your Attacks!
Plan out your attacks with the intel and photos to help you gain an advantage on your first play-though.
Use your radar to see where the enemy come from and place traps or even pre grenade their location to stop them from getting to you.
Ranks and Events
There is a ranking system in place for seeing if you are the best of the best and each season will have different goals to gain the highest rank.
Events happen every so often and can gain players more rewards and exp (or even special items).
Special items will range from weapon skins to new grenades and even weapons.
Modes
There will be 1 mode on release survival, BUT we are working on a story mode and event mode to keep variety.
Survival mode: This will be the main mode (till story comes out) where you have to survive as long as possible to gain a high score.
Event mode: Event mode can be ANYTHING, some ideas we have had for this mode is; Headshot challenge, 1hp mode, 1 weapon mode and super infected.
Multiplayer: We are thinking of adding multiplayer as these types of games usually have co-op in them but we want to try and go for a single player experience.
Challenge mode: Time trials, Best accuracy and even a sniper challenge!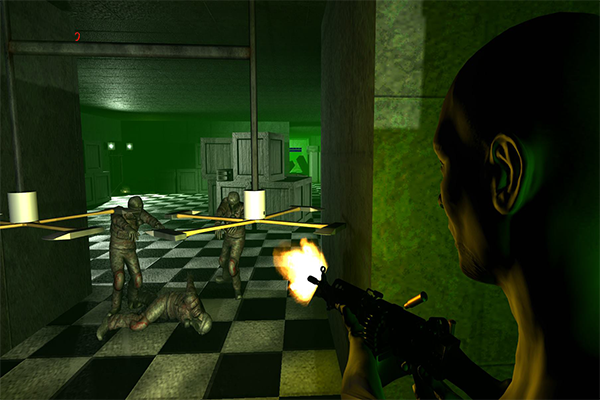 Latest News
No items found.