Pre-Order Now!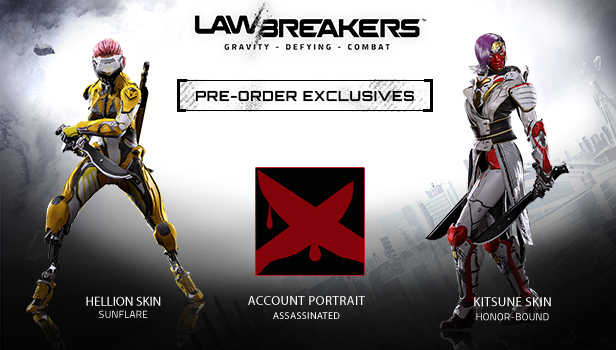 Pre-order now to get the Assassinated Animated Account Portrait, Kitsune Honor-bound Skin, and the Hellion Sunflare Skin.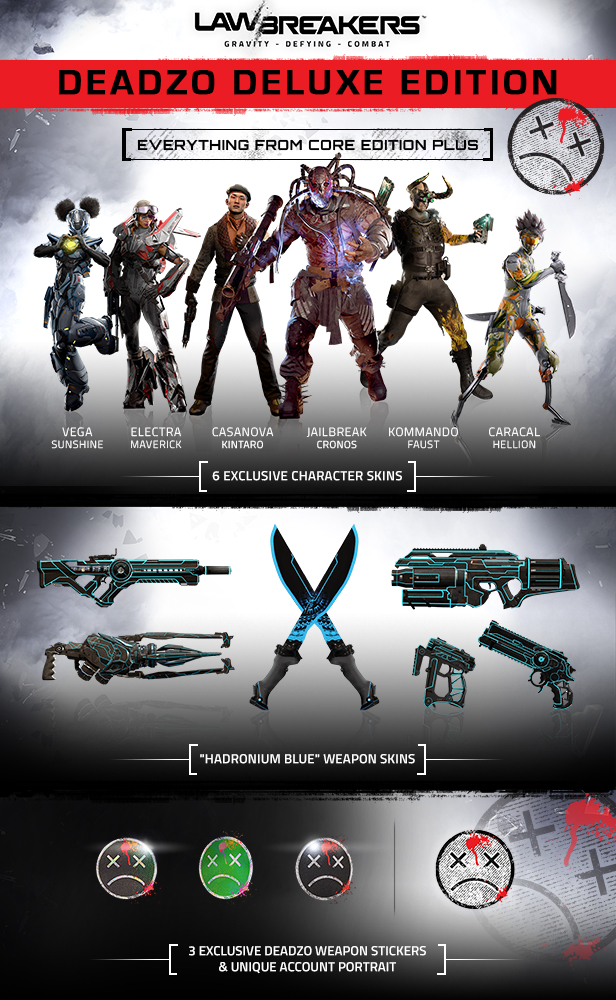 Lay claim to exclusive in-game items with the LawBreakers Deadzo Deluxe Edition, containing a ton of digital extras including character & weapon skins, Deadzo weapon stickers, and a special one-of-a-kind Deadzo account portrait – all only obtainable via this edition. Bring your skills and get ready to deliver death from every angle as you compete in unprecedented gravity-defying combat in this new, first- person shooter from legendary game designer Cliff Bleszinski. It's time to rise to the challenge, get off the ground and see who's best.
LawBreakers doesn't level the battlefield, it rises above it with a no-nonsense, one time price that includes all future roles, maps, modes for FREE. Yep… No 'Season Pass' BS required to compete in the future of FPS combat, just absolute skill.
Get the Deadzo Deluxe Edition which includes everything from the Core Edition plus:
– Six exclusive Character Skins
– "Hadronium Blue" Weapon Skins
– Deadzo Weapon Stickers
– Deadzo Account Portrait
About the Game

Latest News
It looks like the LawBreakers player count has finally dwindled down to the lowest figure of zero, with no players online. [Source: mp1st.com ]