VIP Founders Items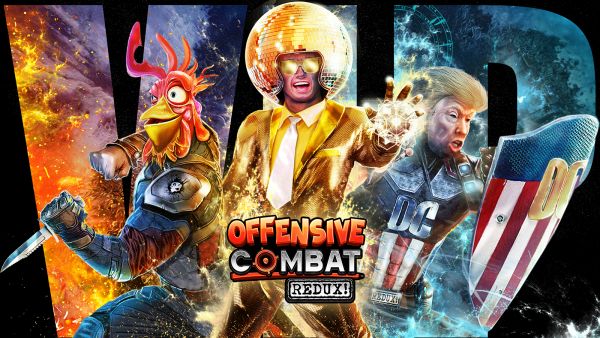 As a thank you to players that buy the game and log in during the month of August, we've created some special in-game items that will show you've been around from the start. Included is a special edition Gold Disco Ball Head, 2 Gold VIP Jackets (1 Female and 1 Male), Gold Pants, Gold Shoes and you guessed it, Gold Gloves. You'll Be So Gold, people will be telling you to watch out or you'll OG!
About the Game
Offensive Combat: Redux! is a fast-paced, frenetic online FPS game that lets you show your skill and play as a number of different unique characters including Commandos, Aliens, Geckos, Chickens, Orcs, Pirates, Disco Stars, and more! Gear up with dozens of insane weapons and take on Killer Robots in single player mode. Test out new weapons in the Weapon Range, then explore the maps to get yourself ready for multiplayer.
Team up in Team Deathmatch and Capture the Flag, or jump into the chaos of a free-for-all round of Deathmatch. With 6 very different maps at launch and multiple modes, Offensive Combat: Redux! is a unique, funny, FPS game that you won't want to miss!
Features
6 Maps (with more in the works)
Weapons, Weapons, Weapons – Assault Rifles, Sniper Rifles, SMGs, Shotguns, Handguns, Melee Weapons
Hundreds of Avatar Parts – Show your unique character as you chose from more than 40 character heads, chests, legs, arms and feet and more than 1,000 combinations at launch
Power-ups – find time-limited power-ups in game including Chainguns, Armor, Double Damage, Rocket Launchers, and more
Multiple Pwns– Teabag your enemies after you kill them for extra rewards and random drops
Multiplayer Game Modes
–Deathmatch (2-12 Players)
–Team Deathmatch (4-16 Players)
–Capture the Flag (4-16 Players)
Single Player Modes
-Killer Bot Mode
-Map Exploration Mode
-Weapon Range
Current Map List
–Burninator– A lava filled citadel in ruins. Grab some armor and get to the top of the map for the best vantage point
–Courtyard– An Asian temple with Dragon Statues and Koi ponds that keeps you moving
–Dry Run – A desert themed town that features plenty of sniping spots and three paths that make this a favorite for Capture-The-Flag games
–Probetown – The Aliens have landed in suburbia and they're beaming you up to pick up power-ups like armor and the Chaingun!!
–Slums – A run down section of a city that features sniping spots and close quarters choke points as well as all of the power-ups and ammo crates
–Turbine – A futuristic energy plant with multiple towers and lots of places to battle it out
Latest News
No items found.