Just Updated
New Game Mode: Sabotage
With OMD!U 2.0, we are proud to debut a new mode: Sabotage! This mode introduces a new, head-to-head way to play OMD!U. In Sabotage, two teams battle on separate versions of the same map, competing to see who can finish their waves with the most rift points still intact. However, both teams can meddle in the other's ability to defend their rift by selecting potions, scrolls, and spells that can interrupt, distract, and disrupt the other team's strategy.Whoever has the most rift points left when all waves are completed wins!

Also, beginning with this mode is an exciting new ranking system. Players can compete to become silver, gold, platinum, and finally diamond ranked. Win Sabotage games to become one of the honored few to reach diamond rank! Playerscan also work together to be one of the few guilds at the top of the ranked guild ladder.

Have fun, war mages!
Redesigned: Score System
All leaderboards have been reset to accommodate new score changes.
The base score for leaderboards is now entirely dependent on minion kills and combos.
Players receive an 8x bonus score multiplier for zero deaths. Each deathwill reduce this multiplier by 10%, to a minimum of 1x.
In Sabotage and Survival, players receive a 4x multiplier for zero rift points lost. Each point lost will reduce this multiplier by 5%, to a minimum of 1x.
In Endless, each wave completed after wave 5 now provides a 15% bonus to players' scores.
The time-score bonus has been reworked and is more significant. If a player hits par time, he or she will receive a 2x multiplier. If a player completes a battleground under the par time, they will receive a >2x multiplier. If a player exceeds par time, he or she will receive a multiplier between 1x and 2x.
The combo point timer on minions now pauses while the minion is in the air.
Coin is no longer a factor in score.Developer Comment: We were uncomfortable with score being independent from star performance. With these changes, we hope to align perceptions of performing well with higher scores. In addition, these changes should result in combos still being necessary, but not the only consideration in maximizing scores.
Redesigned: Chest Opening Sequence
Players no longer need to click through each card one-by-one. Instead,with a single click, all cards are revealed.
If players have multiple chests, they can now quickly proceed to other chests to open them.Developer Comment: Back when players were not getting multiple chests as rewards, the slow presentation of cards for chest-opening worked well.However, now that players collect many chests and many cards for upgrades, the chest-opening sequence needed to be streamlined. These changes dramatically increase the pace of opening chests.
Updated: Enemy Heroes Replaced with Mercenaries
We heard your feedback: enemy heroes are not fun to fight. We have created four new mercenaries to replace them that have intelligent AI and will mix up gameplay in different ways.
Pride Assassin: An enemy stealth mercenary that will attempt to gank players and run away to heal.
Bouncer Bear: An enemy mercenary that escorts minions and tries to forcefully push heroes away. Be careful; he will damage barricades if he steps on them.
Dwarf High Shaman: This dwarf mercenary occasionally shields the minions around him, making them invulnerable unless heroes cross through his shield.
Chaotic Kobold Wizard: A chaotic kobold mercenary that roams the map, placing crystals that slow players and disable traps.
Click below to read the full patch notes and give us your feedback.
Patch Notes & Feedback
Connect!
About the Game


We're listening to you. Please check out our forums and let us know how we can make the game better for you.

"It's Orcs Must Die! 3 and much, much more." – Polygon
"Unfortunately for orcs, it's better than ever." – PCGames N
"Unchained undeniably felt like an Orcs Must Die! game." – Hardcore Gamer

Orcs Must Die! Unchained takes the award-winning Orcs Must Die! action tower defense gameplay to a whole new level with 3-player team-based gameplay! But don't get cocky, because the stakes are higher, the traps are bloodier, and the invaders are even more ravenous. You'll need to bring your A-game and a couple of the biggest orc-haters you can find!
Orcs Must Die! Unchained is set in the familiar world of its hilarious fantasy predecessors, years after the finale of Orcs Must Die! 2. With dozens of new rifts and worlds beyond them, heroes have come from far and wide to wage all-out war for control of these magical gateways. In the years since Orcs Must Die! 2, Maximillian and Gabriella have done their best to rebuild the once-mighty Order. Their new enemy, the Unchained, is no longer the mindless horde defeated twice before, but instead an organized army led by its own powerful heroes.

Killin' Orcs and Smashin' Dorks


Orcs Must Die!'s classic white-knuckle witch's brew of action and strategy returns, letting players team up with their friends to lay waste to millions of new invading monsters! Build an impenetrable gauntlet of traps to hack, grind, flatten, gibletize and incinerate foes before they charge into the heart of the rift!

It's Definitely a Trap


The only thing better than building traps for murdering minions is building more traps! Play to unlock traps, then upgrade them to be even deadlier. Players cover fortresses in gleeful torture devices and engineer a variety of hilarious and violent ends for invading minions. Customize a strategy for every battle. The hordes are no match for the powers of elements and physics!

Real Action Heroes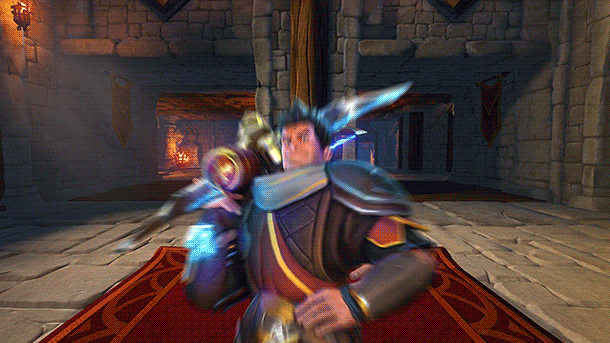 Are you mage enough to defend the rifts? A wide variety of unique and powerful heroes with deep gameplay options offer a plethora of painfully creative ways to stop orcs in their grimy tracks. Old friends Max and Gabriella return to fight alongside a cast of new heroes like Blackpaw, Hogarth, Stinkeye, and Bloodspike. Whether players prefer might and majesty or scum and villainy, there's a hero for every type of orc-slayer around.

Your Favorite Ways to Slay


Survival mode lets players murder their way to the top of the orc pile in 3-player co-op defense gameplay that every Orcs Must Die! fan will love. Weekly Challenges and Daily Quests give players the chance to unlock extra traps and upgrade parts. Long-time favorite Endless mode has returned in Orcs Must Die! Unchained with expanded 3-player co-op. All new Sabotage mode sets up two teams of three to troll each other with spells and bosses in an action-packed race to the highest score.

All New Sabotage!


Gamers ready for a trap-snapping, spell-slinging, ogre-spudging good time can look no further than Orcs Must Die! Unchained's new game mode, Sabotage! This fast-paced mode is a totally new way to play. Players assemble a team to defend their rift, but at the same time another team is playing on the same map in some… spooky… alternate dimension or something. These other players can distract your team with spells, minions, and huge bosses to make you lose rift points. But of course, players can pay 'em back by doing the same! The team with the most rift points at the end of the match wins.
Latest News
No items found.