Raiders of the Broken Planet – Founder's Pack
Experience the full Raiders of the Broken Planet adventure with the Founders Pack.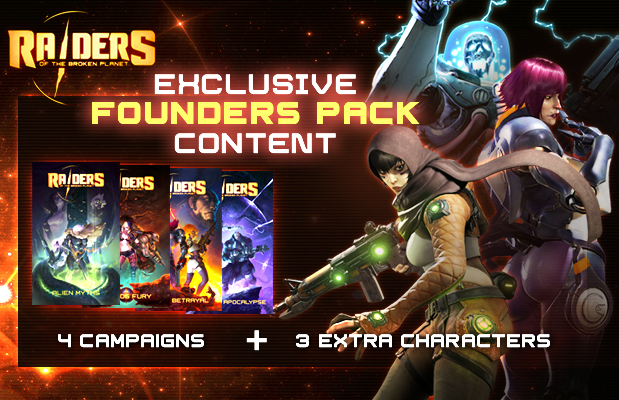 Get all four campaigns for Raiders of the Broken Planet upon release including Alien Myths, Wardog Fury, Hades Betrayal and Council Apocalypse, plus three brand new characters included for free from Alien Myths – Mikah, Dr. Kuzmann and Ginebra, all for one great price!
* Characters are unlocked for free and made available only when released.
About the Game

Harec, doesn't have many choices when it comes to finding Raiders to battle against the human invaders. Normally he wouldn't rescue the likes of Lycus Dion, but he needs warriors whose reputation alone can instil fear. The Hades Division has Lycus prisoner, so he needs to move fast to tip the scales in his favor!
Raiders of the Broken Planet is a novel 4 vs 1 adventure where you experience both sides of the story: Team up with other Raiders, or change sides and foil their missions, fighting as an Antagonist with the enemy at your side.
As a Raider, you will compete with your teammates for valuable rewards.
As the Antagonist, you are judged by Uras-Beherit, a dark space demon!
This Prologue is a free introduction to the World of Raiders. Premium stand alone campaigns (sold separately) expand the adventure. Raiders combines narrative missions with intense 4 vs 1 battles, making this shooter a one-of-a-kind experience.
PROLOGUE – FOR FREE
Play with 4 characters (Harec, Alicia, Hans and Konstantin)
Play 'First Round' and 'Hanging From a Thread' missions as many times as you want
Antagonist mode unlocked

ALIEN MYTHS CAMPAIGN
1 EXCLUSIVE extra character (Shae)
4 additional missions available
Possibility to recruit new Raiders and configure their setup.
League of Antagonists
*Can also be played solo.
Latest News
No items found.