Shotgun Farmers is the Online Multiplayer shooter where your bullets grow the guns. Harvest weapon plants quickly for more ammo or let them grow for a larger clip. Aim carefully, as a missed shot means you've just gifted your enemy with the gun you're using!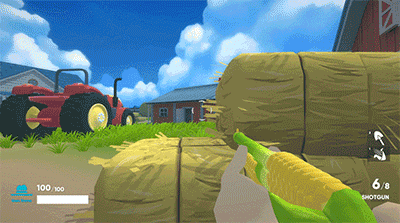 Online Multiplayer Shooter for up to 12 players!
No reload means you have to grow your ammo! Shot by a sniper? Well they just planted you your very own sniper gun to fire back with!
Fight with 4 different vegetable weapons, with more on the way.
Customize your farmer with unlockable hats!
Team Deathmatch, Oddball, and King of the Hill game modes.
Battle across 3 farms, the Countryside, the Riverside, and the Westside.
Customizable room options and password protected games.


Weapon plants grow from the bullets that hit the ground. The longer a plant grows, the more ammo it will have.




Since Day 1, Shotgun Farmers has been developed live on Twitch with ideas and feedback from the community. Join us on stream at: twitch.tv/qazitv
Latest News
No items found.