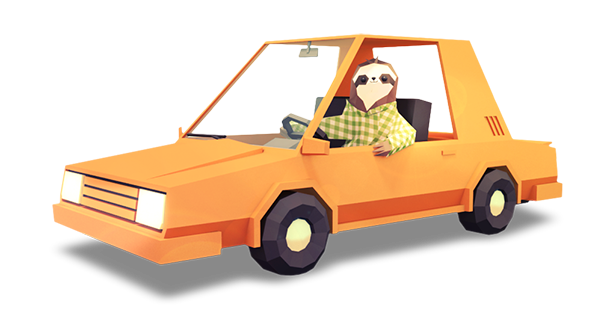 The Path of the Sloth
Slowdrive is a game about long way home, but actually it's about your driving skills. The sleepy sloth left his home because of a butterfly effect (literally) and now he wants to return. Road home is divided into very short (from a few seconds long) but tricky stages. To complete this hard path you have to hone your driving skills and learn every track.

Most tracks have multiple routes (remember: the shortest is not always the fastest) and some even contains moving platforms. Physics model is not quite arcade so watch your speed!
Game has some visual car customization, but there are no performance upgrades – only your skills can improve the results.
Features
60 short but challenging levels
Unlockable visual car customization
Hidden collectible on every level
Ghost of your best result
Top-10 best results with ghosts for each level
Cute sloth
Controller support


Mac OS and Linux support will be added soon.
Latest News
No items found.