DODGEBRAWL: Strikers Edge is a game of dodgebrawl! Use whatever means it takes to bring your foe down from your side of the rift.
GIT GUD: Get your accuracy on point, anticipate your enemies' trajectories and get the psychological upper hand to annihilate the opposition!
ONLINE AND LOCAL: Fight online or locally as one of 8 unique strikers across 4 different arenas. Achieve greatness in 2v2 with a friend or become the top striker in 1v1!
PICK AND MASTER:: Each striker has its own set of abilities, weapon, stats and playstyles. Which one will you choose and master?
Strikers Edge is an intense, action-packed, online multiplayer ranged combat game, where you play as an ancient warrior!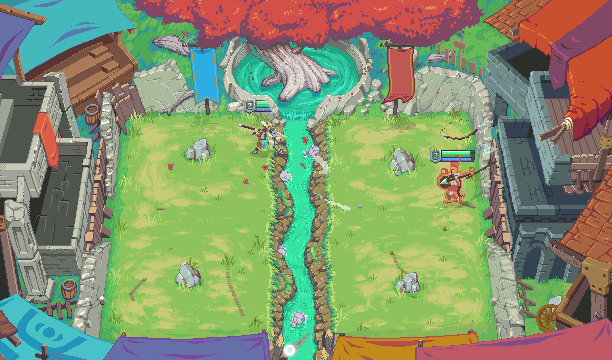 Choose among 8 unique strikers, each with it's set of abilities, playstyle and strategies.
Play 1vs1 and 2vs2 matches to obliterate the opposition in online and offline sessions.
Impose your fearsome dominance and become the best striker by ranking up the online ladder.
Select between 4 different arenas with distinct layouts, obstacles, hazards to add to your strategy.
Easy to learn, hard to master: pick your favorite striker and get ready to discover all his hidden mechanics and subtleties.
Strikers Edge puts mind games front and center. Predict your opponents moves and surprise them with your own strategy!

Competitive mode with ranked online ladder: challenge other players online in 1v1 or 2v2 ranked matches and climb from Wood to Diamond Tier! Gather a bigger crowd cheering for you as you rank up the ladder!
Armory: Customize your character, weapon, banner and even crowd with unlockable items.
Twitch Integration: Streamers will be able to interact with their audience in specific ways when playing. Shootout from the crowd, choose a game mod… more info to come.
Latest News
No items found.