~The nuclear apocalypse embodied by two idiots~
Trespassers is a fast paced shoot 'em up with some RPG flavour that let's you enjoy that frantic button smashing vibe you are missing from the arcade machines. Best of all, bring your best friend (*) home and share the afternoon trying to defeat tons of enemies as you make your way to the very center of the city, where your fate (and maybe your missing TV sex symbol) awaits.
(*) Friend not included with the game
Varied gameplay
In Trespassers you will be playing different modes in a 2D-action game:

– Side view action-platforming: run, jump, shoot a lot, find your way through, kill the bosses, protect the beers, activate the bombs… Whatever it takes to get the job done!
– Top down view: drive the pickup shooting at enemies and buildings alike, roaming freely in the city while you try to get to the core, through the gates. Search for missions, stores, enemies and even secrets.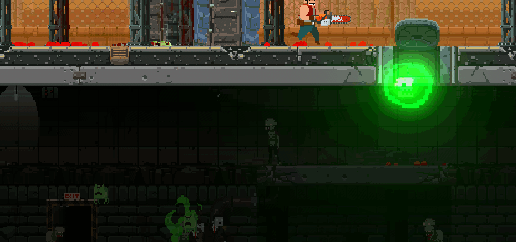 Upgrade your character

Level up and get new skills, and collect money to purchase upgrades for your weapons, and other items at the Andy's stores scattered across the city -if you find them.
Latest News
No items found.